This page shows a list of product releases I had the opportunity to be involved in, either as a designer, a concept programmer, a product owner, or now as Director of Products.
2018/09 – Maschine Mikro MK3
In the fall of 2018, we released the follow-up to the smallest and most affordable Maschine in the portfolio. While the previous Mikro was aimed at providing almost all functionality of the bigger brother in a more compact form factor, Mikro MK3 is much more aimed at those interactions that really require a hardware: playing beats and performing with sound in realtime. For this, we managed to have the bigger pads and the responsive touch strip of Maschine MK3 in an even thinner and flatter device.
2017/12 – Maschine 2.7
This version finally brought real-time audio time-stretching to the world of Maschine. We have added this functionality in a very Maschine way: audio loops are embedded in patterns, can be used together with note-based instruments, and their pitch can be played via the pads or keys on a connected Komplete keyboard.
2017/10 – Maschine MK3
In October 2017, we released a significant hardware update to the Maschine family: Maschine MK3. This new device addresses the most popular requests our users had for the classic hardware: color screens and an audio interface, all in a portability-friendly package. We achieved this by bringing the screens we introduced on Maschine Studio to the new MK3, while also adding a really good audio interface. The challenge was to keep the same footprint and backpack-friendliness of the MK1 and MK2 controllers, while also retaining their independence from an external power supply. In the end, we could achieve both goals. What's more, we also released a new version of the Komplete Kontrol S-series keyboards, this time with even deeper integration into Maschine. This is what the two devices together look like:
And here is an overview of what's new in Maschine MK3:
2017/5 – Maschine 2.6.5
This update to the Maschine software introduces Ideas View, a sketch pad for collecting ideas, combining them in scenes, and quickly arranging them on the timeline. For anyone who mainly uses Maschine as a start point for their creative process, this new view will provide a much clearer workflow and overview of the material. In addition, a longstanding user request has been addressed with the inclusion of an option to keep Group routings persistent when loading a new Group. This way, a setup with multiple audio or MIDI routings will remain intact when switching out the Group.
2017/3 – Maschine 2.6
A new release of our music production software that brings more detailed editing features for Maschine Jam users, including note length editing and per-step parameter modulation. For users of 4×4 Maschines, the update adds the "Variation" modes (features to randomize and humanize notes) and the much-loved "Lock" feature (to quickly create sound snapshots) to the "classic" line of hardware products. Additionally, we added the capability to modulate external MIDI gear from within Maschine.
2016/9 – Maschine Jam
This device adds a new perspective on the Maschine production environment, being focused on "jamming" in the arrangement and creating new ideas along the way. It brings together direct access to the full project, a versatile step sequencer with melodic and multi-drum modes, and a row of eight "SmartStrips". The latter are essentially touch strips on a new level of engineering, making them extremely responsive. A suite of performance effects was designed and developed to be used via these strips. Altogether, Maschine Jam is a creative combination of a clip launcher, a step sequencing groove box, and a dub mixer.
2016/9 – fluXpad for iPad
This is the iPad version of a sequencer I started to work on with the band Mouse On Mars in 2010. It was originally based on Wacom Cintiq graphics tablets, and then progressed onto the iPad as a creative sampling sequencer. The fundamental idea is to have a canvas where patterns of sounds can be drawn. This has proven to be an intuitive way to create interesting beats, because the tuning of the sounds can be controlled directly. fluXpad comes with sounds by Mouse On Mars and Matthew Herbert, and will be expanded in the future. Direct sampling is also possible, of course. Here is an overview video with Mr. Maloke of the Puppetmastaz:
2016/6 – Maschine 2.4.6
Several workflow improvements and loads of bug fixes. New slicer mode for "live slicing".
2015/11 – Maschine 2.4
Full support for the new "Native Kontrol Standard", a harmonization initiative to bring together software instrument makers and offer enhanced hardware integration with Native Instruments' Komplete Kontrol S-Series of keyboards as well as Maschine.
2015/5 – Maschine 2.3
A big update for the "Maschine sound". New drum synth engines, new effects, better workflows.
2014/11 – Maschine 2.2
New arpeggiator and scales & chords features for Maschine. These had been introduced on the Komplete Kontrol keyboards, with integration into Maschine in mind. This update also brought full hardware integration for the keyboards.
2014/10 – WretchUp for iOS
This is an app I had the privilege to conceptualize together with Mouse On Mars. The initial idea was to build an instrument for iOS that was wild and unpredictable, unlike the tame and nice-sounding music apps that already populated the App Store. WretchUp is the result of this collaboration, which also brought Peter Kirn and Oliver Greschke on board.
More info at MoMInstruments.com
2014/4 – Maschine 2.1
A lot of new features to streamline the workflow for users of Maschine 1.8, to bring more of their most-loved features over to the Maschine 2 codebase. This update also brought additional sound engines to enhance Maschine's sonic variety.
2013/11 – Maschine Studio & Maschine 2.0 Software

This was the biggest update in the history of Maschine. The software was completely rewritten, with a modern, service-based audio engine at its heart. Together with the software, we also released Maschine Studio, a new flagship controller in the Maschine line of devices, introducing high-resolution color screens to bring most of Maschine's functionality directly onto the hardware. All existing devices continued to be supported by this new version.
2012/9 Maschine MK2, Mikro MK2, Maschine 1.8 Software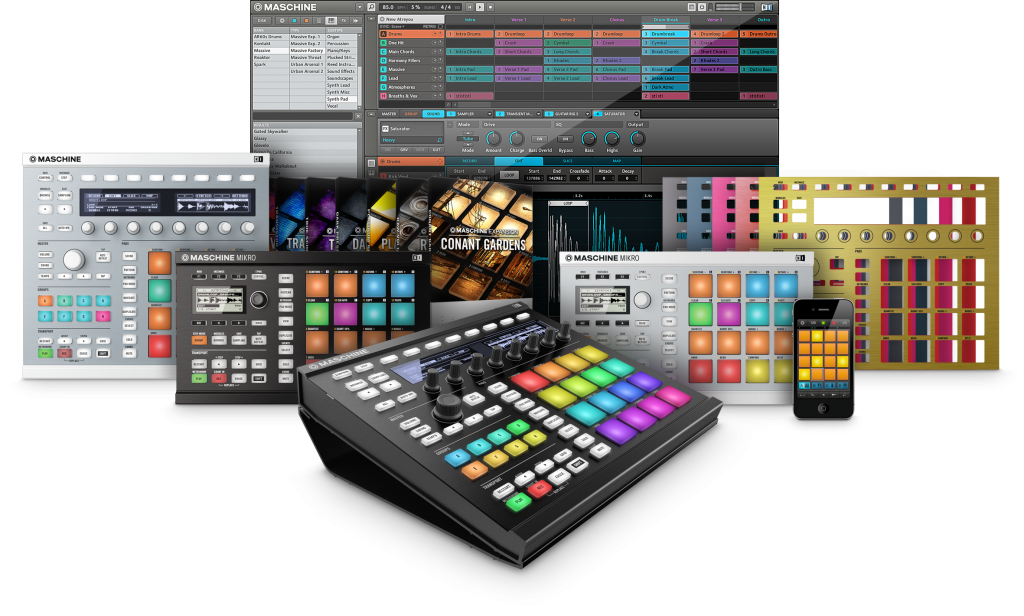 We introduced the second generation of the Maschine hardware family. The layout was kept intact, upon popular request. The most visible addition were the colored pads and group buttons. Under the hood, several major construction elements saw great improvements. The Maschine 1.8 software was released at the same time, and brought support for the colors on the hardware as well as audio time-stretching and new recording capabilities.